Ready to upgrade your fleet communications?
Contact Us

, and we'll get started.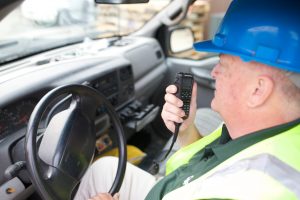 For Albertans who drive for a living, mobile radios are an essential tool for the job.  In major cities like Edmonton or Calgary, couriers and bus drivers use them to stay in touch with dispatch.   Truck drivers working on mine sites near Fort McMurray, or on resource roads, province-wide, regularly use them to communicate with other drivers.  All of this communication serves to keep everyone safe and the job on schedule.
Equipping your fleet with radios that support loud, clear voice communication is key to success.  Fortunately, the features of Motorola Solutions' XPR 5000e series have been tailored to provide it, along with an optimized user experience.
You can view different models to see the specifications or Contact Us to learn more.  Or, just keep reading to see learn five ways the XPR 5000e series can improve fleet communications.
A Flexibility of Installation with A Remote Mount or Handheld  Control Head
A control head is essentially a replica of the mobile radio's user interface, but it also includes a microphone and built-in speaker.  The control head can be mounted in a place that suits the driver's needs, while the actual radio is installed elsewhere in the vehicle.
In many vehicles, space is at a premium.  Typically, a mobile radio would be installed in the console, but space inside the vehicle may not always allow that.   But the XPR 5000e Series radios are controlled head compatible, which means this won't be a problem.
There are two types of control heads that mobile radio users will run into – remote mount control heads and handheld control heads.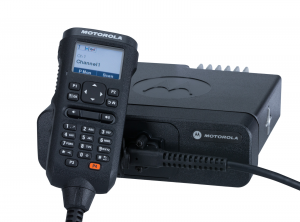 A handheld control head, like the PMLN 7131, allows for significant flexibility of installation.  You can install the radio wherever it is convenient – behind a seat, in the console, or even the trunk – and use the control head to operate the unit.  The large buttons make operating the unit easy for drivers who are wearing gloves (like firefighters) and the standard 6ft cable makes it easy to communicate while moving around the interior of a vehicle.  For first responders like paramedics, this can be very helpful.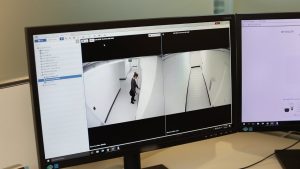 A fixed mount control head, like the Motorola PRMLN6404, is a little different.  It is effectively a replica of a mobile radio control panel with larger buttons and knobs that make operation while wearing gloves extremely simple. This panel can be detached and installed in a separate location from the rest of the unit and installed wherever it is convenient if space in the vehicle is at a premium.
Safe, Distraction-Free Operation with Voice Announcement
When your drivers are on the road, safety means keeping both eyes on the road.  Voice Announcement helps drivers do just that by playing a pre-recorded audio message whenever they switch channels, drive into a different zone, or change other settings. Having this message play means they won't have to take their eyes off the road and look down when they want to operate their radio to send an important message.
Side note:  While Alberta does have strict legislation regarding distracted driving, two-way radios are among the devices that can be operated while driving.  Click here to learn more.
Easy to Read Five Color Display

If your team is driving at night down a poorly lit highway, having the bright, five-color, LED display will make operating their radios much easier and far safer.  It's a simple feature, but one that can make a lot of difference in low-light conditions.
Flexible Communications with a Long-Range Bluetooth Microphone
The XPR 5000e Series offers something its 4000 series predecessors don't: a wireless, Bluetooth microphone with 10 meters of transmitting/receive range.  What this means for your drivers is the ability to use this microphone as a handheld radio, even if they walk a short distance away from mobile radio installed in your fleet vehicle.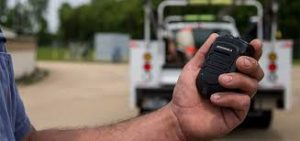 This can be useful if they need to do something like a vehicle inspection before heading out on a road trip or after an accident. Having the wireless Bluetooth microphone would allow a driver to communicate efficiently with dispatchers, relaying information, and receiving instructions. A standard microphone would require the driver to walk back and forth from his radio to the damaged part of the vehicle, but a wireless mic spares him and dispatch this tedium and inefficiency.
Long-Term Service and Support with Motorola Essential Services
Mobile radios see a lot of wear and tear, even if they aren't used in all of the same environments as handheld radios.
Any dirt or debris that enters the vehicle cabin has the potential to enter the radio and microphone, as well. Your radio's antenna is routinely exposed to the elements, and the constant vibration your vehicle experiences when being used on rural roads can impact the integrity of the installation.
With Motorola Essential Services warranty coverage, you don't have to worry about the additional cost of hardware repairs as they're covered for five years.  Also, this package includes two years of software maintenance in upgrades.  All told, this means you will be able to keep your fleet of communication equipment performing optimally at no additional cost for the long-term future.
A Note on the 4000 Series
In April 2020, Motorola discontinued its line of 4000 series radios.  This means replacement parts are no longer being manufactured, software for this radio isn't being updated and, soon enough, radio suppliers will be unable to support them.
If your fleet relies on the XPR 4000 series, now is the time to start planning.  Contact Tridon if you have questions about how to phase out this legacy equipment.  We can set you up with the XPR 5000e series, and industry-leading equipment installations, on a timeline and budget that works for you.
Getting Started

This was just a quick look at what the XPR 5000e series can do for your fleet communications.  There's also the enhanced coverage, Wi-Fi capabilities, and compatibility with Capacity Max systems to look forward to. If you have questions about the 5000e series, or if you'd like to set up a demo, Contact Us. Our Account Managers and Service Technicians are here to help.
---
Tridon is a full solution Telecom Systems Integrator with CSA certification and licensed by APEGA.  Our Engineering, Service and Tower Divisions collaborate with customers to build engineered solutions including communications systems design, tower inspections, and co-location, wireless broadband, fiber optic cabling, site security, and two-way radio communication.