Looking for an easy way to switch to digital radios?
Contact Us

.  We're here to help.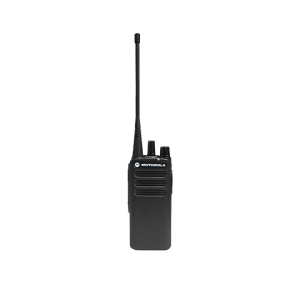 There are still many analog radio systems supporting communication in Alberta, from the southern border, through Calgary and Edmonton, across the Oil Sands and further north.  Cost is usually the reason cited when managers are asked why they haven't migrated to a digital two-way radio system, but so are necessity and complexity.  The analog radios they have work (well enough) and digital radios come with a range of features they don't know how to use, or if they even need them.
Motorola's CP100d handheld, digital two-way radio is an answer to that.   It's affordable and user-friendly.  It provides the key features that set digital radio communications above analog but leaves behind the features that some users find surplus to their requirements.
If you'd like to try the CP100d for yourself, or just talk about migrating to a digital radio system, Contact Us. Or, you can keep reading to learn more about this new model.
Digital and Analog Capable

We're pretty relentless when it comes to describing how digital two-way radios are better than analog (and that's not going to change) but we understand that migrating from one standard to the other in a single go isn't always feasible.  Fortunately, Motorola's CP100d can transmit in both modes.  Using them means you'll be able to phase out your analog radios and repeaters at a pace that fits your budget and priorities.
Loud, Clear Audio and Superior Coverage

Digital two-way radios provide better audio than analog, hands down, and the CP100d is no exception to that rule.  The powerful speaker will make voice calls easy to hear, whether your team is working on the floor of a manufacturing facility or a busy convention.  The microphones on digital radios also work to filter out background noise like machinery, engines, and loud crowds.  That means you'll receive a loud, clear transmission that's easy to understand the first time.
Digital audio processing means that static will also be filtered out of your transmission.  Analog radios struggle to do this, meaning static can make a message unintelligible – especially at the outer edges of the coverage area.  Digital radios don't suffer this problem.  Their signals can travel farther without the need for a repeater, and you can expect the same audio quality at all points within the coverage area.
Battery Life
One perk you'll notice on day one is the improved battery life.  The CP100d (like all digital radios) uses battery power more efficiently than the analog models that came before.  That means a longer battery life for the end-user.  If your transmitting in digital, you'll get between14.4 and 20 hours (lithium-ion vs. high capacity lithium-ion battery).
Durable and Lightweight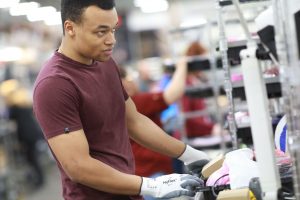 Weighing in at under 300 grams (well under 1 lb) the CP100d is a lightweight radio that can comfortably be carried around on your hip or in a holster.  That said, this radio is still durable, meeting MIL-STD 810.  Drop this radio on the marble floor of a hotel or the concrete floor of a manufacturing plant, and it'll keep on working. And with an IP-54 rating, this radio has excellent protection against dust and debris.  This can be especially valuable if you work in a dirty environment like a pulp mill.
Getting Started
The CP100d may be an entry-level digital radio, but it still comes with some features that make voice-communication easier.  Transmit Interrupt comes with this model, and it can be incredibly useful for managers who have to send a message to everybody, all at once (think emergency evacuations).
It also comes with Voice Announcement.  This feature plays a pre-record clip to inform users of which channel they have switched to.  The benefit of that is a user's ability to switch from one channel to the next without having to look down to see what they are doing.  That means your team – be they machinists or security guards – can keep their full, unbroken attention on the task at hand.
If you'd like to learn more about this handheld radio or try it out for yourself, Contact Us.  Our team is here to help.
---
Tridon is a full solution Telecom Systems Integrator with CSA certification and licensed by APEGA.  Our Engineering, Service and Tower Divisions collaborate with customers to build engineered solutions including communications systems design, tower inspections, and co-location, wireless broadband, fiber optic cabling, site security, and two-way radio communication.