Trying to get ready for the 'new normal'?
Contact Us

.  We're here to help.
COVID-19 has forced business and public institutions to make significant changes in how they serve customers and the public, and many of those changes could be around, long-term.  That me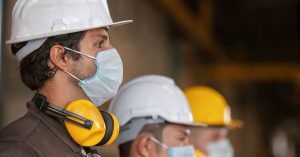 ans organizations across Alberta (and the world) will have to put new strategies in place to keep people safe, and there will have to be ways to enforce them.
Instant access to critical information will be key to making sure everyone is following the same set of rules.  To that end, Avigilon has built new tools to help businesses get that information to their security staff.  And, before you start worrying about new hardware expenses, know that these new features are software-based.  As long as you're running your security cameras on Avigilon
Control Center 7 or greater, you can make use of the features we're about to discuss.
If you have questions about security features that can help with social distancing or crowd management, you can Contact Us directly.  Or, you can keep reading to learn more.
Occupancy Counting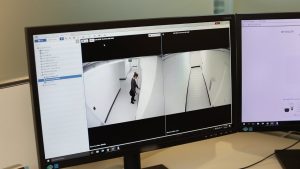 The name is self-explanatory, and so are the benefits.  During the pandemic, health authorities have advised Canadians to limit large gatherings or avoid them altogether.  Governments have gone a step further and set temporary limits on the size of gatherings. As businesses ramps back up, they'll have to find ways to control the number of people on-site at any given time.  This is where Avigilon's Occupancy Counting feature can be useful.
Cameras with this feature enabled can detect each person entering or exiting your facility as a unique 'object'.  This movement is logged as an event – either entry or exit, depending on where the event occurred.  A running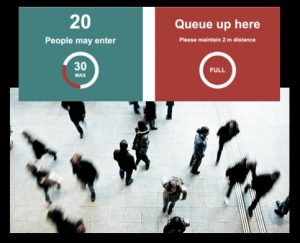 total of how many people are in the facility is calculated, and that information is instantly sent to your Avigilon dashboard with real-time updates.  And, since you can have the information sent to mobile devices, access doesn't have to be limited to security teams working at an elaborate station.
Having this tool would let a hostess instantly now how many patrons were in her restaurant and whether she could accommodate new customers.  Likewise, security guards at the doors of grocery stores could move the line if they knew what store occupancy levels were in real-time.  This information can even be displayed on a tablet so potential customers can get an idea of how long they may have to wait
Face Mask Detection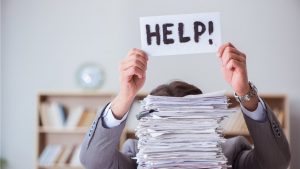 In addition to limiting large gatherings, Canadian provincial governments and health authorities have advised the use of face masks.  Some environments, like hospital emergency rooms, medical labs, and walk-in clinics have gone all the way and require patients, visitors, and staff to wear a mask when on site.  Health care is just one sector where these precautionary steps have become mandatory.  If your business or industry is taking a similarly firm stance, then this feature might be useful.
Like Occupancy Counting, the Face Mask Detection feature is largely self-explanatory.  Cameras equipped with this analytics-based tool work by detecting who (in the camera's field of view) is not wearing a mask.  A still frame is taken when such a person is found and an alert is sent to the relevant party, be it a manager, supervisor, or security guard.  That person can then inform the (mask-less) individual of the safety precautions being taken on-site, provide them with a mask, or advise them to obtain one before returning.
And, as this is a software-based feature, it can be easily deactivated once it is no longer needed without any invasive changes to how your surveillance system works.
Social Distancing
Even if you only went grocery shopping once during the early stages of the pandemic, you likely saw floor markings at 2-meter intervals meant to help customers maintain a safe distance from each other.  Avigilon and Motorola have created a new analytics tool to help businesses maintain this safe separation and protect both customers and staff.
This feature operates by simply monitoring the distance between two individuals and sending an alert if it should fall below a pre-set threshold for an extended period.  If two people pass each other in a grocery store aisle, the system won't send an alert.  However, if someone is standing unnecessarily close to another person, be it in a line or across a counter, an alert may be sent.
Whether or not it will be sent is up to you.  There may be protections in place, like a plexiglass shield, that significantly reduces the need for social distancing between two people.  And, there may be places like hospital emergency rooms where maintaining such a distance isn't always possible.
The parameters of this feature, and when it will or won't send an alert, are highly customizable.  However, it is advisable to follow the directions of public health officials in your area.  If social distancing measures simply aren't feasible if your facility is to operate, talk to your local health authority about other safety measures you can take.
Getting Started
The new normal will take some getting used to.  All of us are going to have to make adjustments.
But, with the right systems, policies, and levels of enforcement in place, getting to that 'new normal' can be a faster and smoother transition than we might expect.  If you're ready to get started, Contact Us.  We have the communication and security solutions that can help your team and your customers navigate this learning curve, and we're here to help.
Tridon is a full solution Telecom Systems Integrator with CSA certification and licensed by APEGA.  Our Engineering, Service, and Tower Divisions collaborate with customers to build engineered solutions including communications systems design, tower inspections, and co-location, wireless broadband, fiber optic cabling, site security, and two-way radio communication.