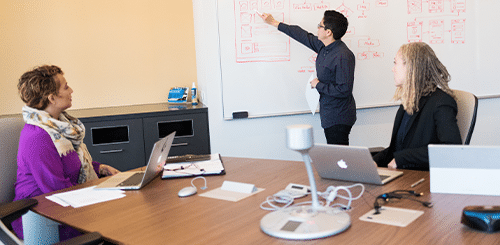 Western Canada's Leading Telecommunications System Integrator
What it Takes to Have a Reliable & Safe Communication System
Businesses and governments need robust communication systems to streamline their daily operations. Whether you're leading a team on a large project or installing a digital radio system for your school or hospital, you need the right equipment and experts for the job.
At Tridon, we have over 40 years of experience in engineering and project management in the telecommunications industry. We are the leaders in integrated telecommunications systems in Western Canada. We serve thousands of businesses, including those in the oil & gas, mining, utility, construction, and transportation industries. Additionally, Tridon has built an excellent reputation with public safety and government organizations for delivering successful projects that keep our communities safe.
Installing a resilient and efficient communication system to help optimize projects in the field and offices bolsters productivity. But doing everything on your own can be both expensive and time-consuming. You might not have the right technical team or the resources to put up a decent communication system.
That is why you need a telecommunication partner. You need a team that specializes in all aspects of communication, ranging from maintenance of RF towers to installation of radios, alarms, CCTV, and dispatch systems. Tridon combines industry best-practices and expertise to engineer, maintain, and secure your information and communication systems.
Begin with Seamless Design and Engineering
A rock-solid foundation is the heart of a reliable communication system. By starting with design and engineering, you're building your system for the future.
The design stage involves the assessment of your communication needs. This facilitates the procurement of the right equipment. It also assists in knowing the kind of technical integrations that your company needs.
Design and engineering are not limited to long-term projects. For your short-term projects, dependable communication is fundamental. Regardless of whether you need video surveillance, access control systems, in-building cellular coverage enhancement or a two-way radio system, the design can spell the difference between the success of a system or its failure.
Let's see some of the benefits of expert design and engineering:
The system design ensures that you get equipment, wired and/or wireless telecommunication devices, and tools that integrate well with your existing solutions.
It allows procurement of the right hardware and in the right quantities form the beginning.
Enables accurate estimation of system installation and ongoing maintenance costs
Fosters project success as we can assess and understand your communication challenges and map out the process for providing suitable solutions.
System design and engineering includes a path study.
Enables smooth evaluation of the technical and infrastructure needs of your project for easy installation and reprogramming of antennae systems, cellular network boosters, repeaters, etc.
When it comes to system design and engineering, Tridon is your go-to solution. We know that the secret to a robust communication system lies in the engineering used to integrate different technologies. We design and engineer various communication systems to meet your specific needs. We integrate, automate, and optimize your system and align it with workforce management solutions to improve collaboration and productivity. Learn more about our system design and engineering services by contacting our support team.
Cost-Effective Telecommunications Project Management
Once your communication system is designed, it's time to roll out and coordinate the project. Whether small or large, industrial telecommunication projects have many moving parts. Even with the best communication system on the planet, without proper project management, you're likely to suffer from workflow problems. IT and communication projects are complex, unique, with tight timelines, budgets, and objectives.
Running such projects successfully means employing expert project managers. Tridon project managers coordinate on-site and off-site teams by applying award-winning project management strategies. Our goal is to ensure that you concentrate on your core business as our project managers manage telecommunication projects. This gives you time to create more business and more ROI.
With over four decades in the project management field, Tridon has overseen and executed multiple projects with unparalleled success. You can learn more about our project management services by contacting our service team.
Telecommunication systems include computers, servers, cables, towers,
hand-held devices such as radios and mobile phones, and other expensive equipment. A lot of investment goes into the installation and deployment of a full-scale communication system in a company.
These systems are vital as they enable institutions to improve productivity, control costs, and increase reliability. They also boost security and worker safety. Downtime means loss of time and money. That is why it is important to maintain these systems to keep them running efficiently at all times.
At Tridon, we don't simply install telecommunication systems then leave companies to struggle with maintenance and upgrades. Our services include maintenance contracts that enable us to keep your systems functioning optimally and efficiently 24/7. Tridon can build a maintenance plan for you based on your needs.
Undeniably, a well-maintained communication system is vital for keeping teams in the loop and ensuring the safety of everyone. Properly maintained systems are reliable and cost-effective. When your team is dispersed across a wide area, radio systems and powerful communication systems are essential.
Tridon can help with your next system design, project management, and system maintenance services anywhere in Western Canada. Contact us today to learn more about our services.